ARMENIAN LITERATURE IN TRANSLATION
ARMEENSE LITERATUUR IN VERTALING
ԹԱՐԳՄԱՆՎԱԾ ՀԱՅ ԳՐԱԿԱՆՈՒԹՅՈՒՆ
De Donkere Vallei van Aksel Bakunts vertaald in het Engels
The Dark Valley by Aksel Bakunts in English
Ակսել Բակունցի «Մթնաձոր» երկը անգլերենով
De verhalenbundel Mtnadzor (De Donkere Vallei) van de Armeense schrijver Aksel Bakunts is een reeks van 18 verhalen, die voor het eerst in 1927 werden gepubliceerd. De verhalen zijn nu uit het Armeens in het Engels vertaald door Nairi Hakhverdian. Deze Engelse vertaling is uitgegeven door Taderon Press in Londen in november 2009 met een inleiding van Victoria Rowe.
ISBN 9781903656907, UK£10.00 / US$18.00. Voor bestelling stuur een email naar: info@garodbooks.com
Taderon Press is een afdeling van de Gomidas Institute.
Adres: 42 Blythe Rd., London W14 0HA, England.
The short story bundle Mtnadzor (The Dark Valley) by the Armenian writer Aksel Bakunts is a collection of 18 short stories, first published in 1927. The stories are now translated from Armenian into English by Nairi Hakhverdian. This English translation is published by Taderon Press in London in November 2009 with an introduction by Victoria Rowe.
ISBN 9781903656907, UK£10.00 / US$18.00. To order a copy please contact info@garodbooks.com
Taderon Press is a division of the Gomidas Institute.
Address: 42 Blythe Rd., London W14 0HA, England.
Ակսել Բակունցի «Մթնաձոր» պատմվածքների շարքը պարունակում է 18 պատմվածք և առաջին անգամ հրատարակվել է 1927 թվականին: Պատմվածքների շարքը անգլերենի է թարգմանել Նաիրի Հախվերդյանը: Այս թարգմանությունը հրատարակել է Լոնդոնի «Տադերոն Պրես» հաստատությունը 2009 թվականի նոյեմբեր ամսին, Վիկտորիա Ռոուի ներածական խոսքով:
148 էջ, ISBN 9781903656907, UK£10.00 / US$18.00. Գիրքը պատվիրելու համար դիմել` info@garodbooks.com
«Թադերոն պրես» հաստատությունը «Կոմիտաս ինստիտուտի» մասնաճյուղն է:
Հասցե` 42 Blythe Rd., London W14 0HA, England.
Aksel Bakunts
The Dark Valley
translated by Nairi Hakhverdi
with an introduction by Victoria Rowe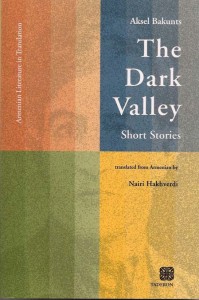 Aksel Bakunts (born Alexander Stepan Tevosyan, 1899-1937), one of the rising stars of Soviet Armenian literature, was known as a masterful short story writer. He was born in 1899 in Goris (Armenia) and educated at the Gevorkian Seminary in Echmiadzin.
Always outspoken, his first publication, a satirical account of the mayor of Goris, earned him a stint in jail in 1915. He subsequently served as an Armenian volunteer in the battles of Erzurum, Kars and Sardarabad. Between 1918 and 1919 he was a teacher, proof-reader and reporter in Yerevan. In 1920 he was accepted to the Kharkov Institute in the Ukraine to study agriculture.
After graduation in 1923, he worked as an agronomist in Zangezur, a region of Armenia that features prominently in his short stories. From 1926 he settled in Yerevan where he quickly established his reputation as a gifted writer with his first collection of short stories entitled Mtnadzor (Dark Valley). His oeuvre includes short story collections, various individual pieces in the press, fragments of novels sadly destroyed following his arrest in 1936, and three screenplays for films produced by Hyefilm in the 1930s.
A colleague and friend of Yeghishe Charents (1897-1937), Bakunts was a member of the former's Armenian Association of Proletariat Writers. Bakunts fell victim to the Stalinist terror and was accused of various crimes including alienation from socialist society. He was arrested in 1936 and is believed to have been shot after a twenty-five minute trial in 1937.

---
Aksel Bakunts The Dark Valley, translated into English by Nairi Hakhverdi, with an introduction by Victoria Rowe
London: Taderon Press, 2009, 148 pp, ISBN 978-1-903656-90-7, paperback
GB£10.00/US$18.00